---
<![if !supportEmptyParas]> <![endif]>
<![if !supportEmptyParas]> <![endif]>
<![if !supportEmptyParas]> <![endif]>
<![if !supportEmptyParas]> <![endif]>
<![if !supportEmptyParas]> <![endif]>
<![if !supportEmptyParas]> <![endif]>
<![if !supportEmptyParas]> <![endif]>
<![if !supportEmptyParas]> <![endif]>
<![if !supportEmptyParas]> <![endif]>
Through a set of breakthrough developments, the nanorobot invention represents a paramount discovery to advance biomedical instrumentation for clinical, pharmaceutical and surgical applications.
The know-how and economic potential of the invented technology has resulted from Cavalcanti's outstanding innovation and pioneering work in the field of nanorobotics.
Cavalcanti is the top worldwide author/inventor on the subject 'nanorobot' and 'medical nanorobotics'. Source: Engineering Village (Figs.1-2), which includes Compendex, Inspec, Geobase, Referex, US Patent, EP Patents. -- Nanorobot Patent List
<![if !vml]>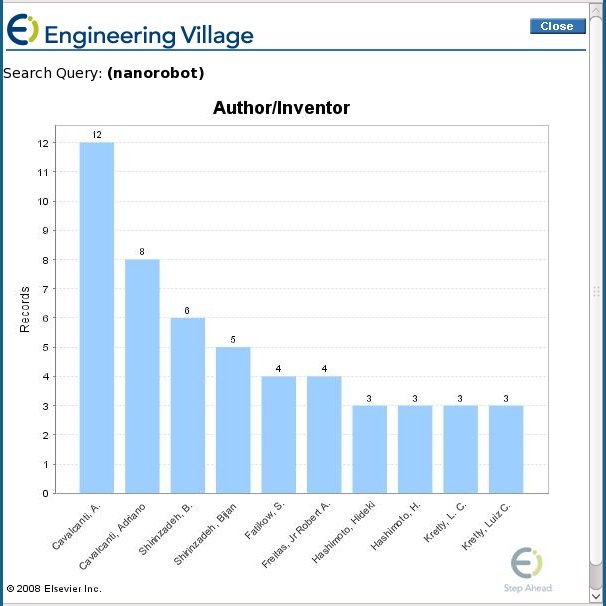 <![endif]>
Fig.1: Cavalcanti - Author/Inventor: Nanorobot - search an expert.
Cavalcanti is the nanorobot pioneer on the development of control and nanoelectronics integrated devices for medicine http://www.nanorobotdesign.com/article/nanobiotech.pdf , and inventor/author of the nanorobot hardware - ACM Association for Computing Machinery http://www.nanorobotinventor.com/invention/hardware.pdf , ISI Web of Knowledge / Web of Science - Thomson, Scopus, and Engineering Village (Figs.3-5). http://www.mdpi.com/1424-8220/8/5/2932
<![if !vml]>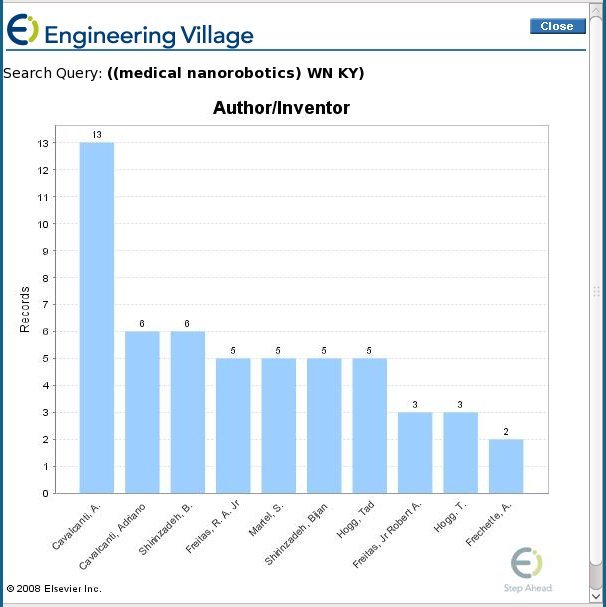 <![endif]>
Fig.2: Quick search for Author/Inventor: Medical Nanorobotics.
After years of outstanding innovation, he became the leading scientist on nanodevice developments for drug delivery, diagnosis, surgery, health care, and environment monitoring, with applications to cancer, diabetes, brain aneurysm, cardiology, and medical defense. http://www.physorg.com/news116071209.html
He implemented the NCD - Nanorobot Control Design system, which provided a practical platform for prototyping and testbed, circuit integration and manufacturing design of medical nanorobots. -- Medical Product Manufacturing News
<![if !vml]>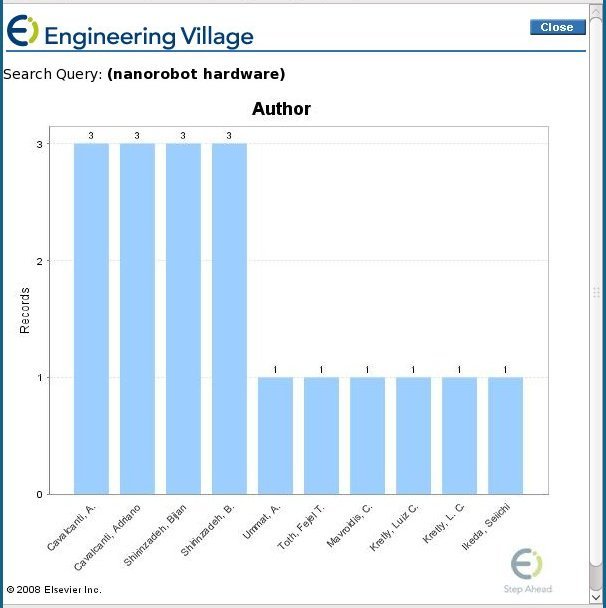 <![endif]>
Fig.5: Search an expert on Nanorobot Hardware.
Cavalcanti is the world's leading expert/scientist at 'ISI Web of Knowledge / Web of Science - Thomson' for the topic 'nanorobot' (Fig.6). http://www.isiwebofknowledge.com